Celebrating excellence: Recharger wins prestigious PMR award for its prepaid electricity meters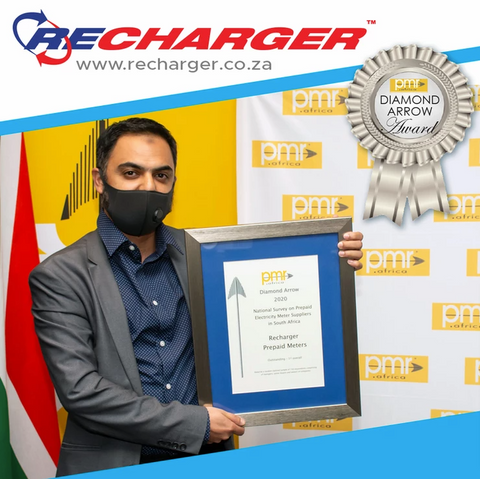 Recharger Prepaid Meters, a leading supplier of prepaid electricity sub-meters, tokens and token vending solutions, was proud to accept the PMR Diamond Arrow award in the recent annual PMR.Africa annual national survey on Prepaid Electricity Meter Suppliers in South Africa, having scored as the highest-rated contender in this category.
The annual PMR.Africa Awards acknowledge and celebrate excellence and, in the process, set a benchmark to which others can aspire. The survey has been running for many years and this was the first time that Recharger had entered.
Zachariya Lockhat, Head of Business Development at Recharger, says, "It is an honour to not only be considered for this award, but to also go on to win the top trophy in the category. We believe that our focus on service delivery and customer support is what ultimately placed us ahead of formidable competition."
The research process surveyed a random national sample of 150 managers, senior buyers and owners of companies within the South African hardware retail stores universe.
The respondents rated the companies on the following 19 attributes, namely:
· The ability of the product to move off the shelf;
· The accuracy of the meter;
· Its automated instructions;
· Stock availability;
· Broad-based Black Economic Empowerment (B-BBEE) certification levels;
· Competitive pricing;
· Consumer marketing, including advertising and promotions;
· Cooperation and support of the manufacturer's marketing aims;
· Cost-effectiveness/savings;
· The meter's ease of use;
· Ease of reconnection;
· Environmentally friendly products;
· Integration with other systems;
· Product quality;
· Product reliability;
· Reputation (such as perception of the company's brand, integrity, CSI, and so on);
· Safety features;
· Timeous and accurate orders (no out-of-stock/surplus situations); and
· Being up-to-date with customer needs and trends.
The award ceremony took place on 28 October 2020 at the Elangeni Hotel in Durban. Together with Lockhat, it was attended by Recharger representatives, CEO Imtiaz Dhooma and Senior Marketing Strategist Shaun Clarke.
Concludes Lockhat, "Prepaid electricity metering, which allows customers to buy electricity upfront and use it until the prepaid amount is consumed, helps property owners to manage their tenants' electricity usage and its associated costs more efficiently. We will continue to strive to ensure customer satisfaction at every level in our daily business and set our sights on competing for this prestigious award next year again."